Location:
The Saenger Theatre Box Office is located at 22 East Intendencia Street between the corners of Palafox and Jefferson Street.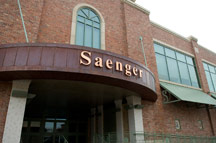 Box Office Hours:
Monday - Friday
10:00 a.m. - 4:30 p.m.
For performance days, the box office and lobby will open 1.5 hours prior to show time to purchase tickets or to pick up will call tickets. Please be sure to have photo ID to pick up will call tickets.
Method of Payment:
The Saenger Theatre Box Office accepts Visa, Mastercard, American Express, cash, and local checks with proper identification.
To purchase tickets after hours there are two options:
Charge by phone, TicketMaster: 800-745-3000
Order online: Ticketmaster.com
No Refunds, No Exchanges
Theatre Tips
Performance Guidelines:
Please silence your cell phones prior to the start of the show. Many shows restrict photography of the performance. Please check with an usher or the House Manager for guidelines. You may have to check your camera in the lobby as you enter the theatre.
Latecomers:
Once the performance has started, latecomers will be allowed to be seated only at the appropriate intervals as established by the show director, so please arrive on time.
Restrooms:
Restrooms are located in the Palafox lobby by the elevator on both levels, at the rear of the Orchestra level in the audience chamber, on the Mezzanine level, and on both levels of the Intendencia lobby.
Water Fountains:
For your convenience, water fountains are located on the first level of the Palafox lobby behind the spiral staircase, on the first level of the Intendencia lobby next to the entrance, and on the second level of the Intendencia lobby next to the elevator.
Smoking:
Smoking is not permitted anywhere in the building; this includes the usage of electronic cigarettes. The designated smoking area for the Saenger Theatre is the Intendencia entrance. The Palafox entrance is designated as a smoke-free area.
Concessions:
The Saenger Theatre maintains a concession stand for most performances. There is a variety of bottled sodas, bottled water, and pre-packaged snacks as well as an assortment of beer and wine. The concession stand accepts cash and credit cards.
Assisted Listening Devices:
For patrons who are deaf or hard of hearing, the Saenger Theatre provides assisted listening devices for your convenience. Please contact any usher and ask for assistance in obtaining one.
Emergency Notifications:
For persons on-call or parents, please include your seat location when leaving instructions at your office or home. Please advise the Box Office or House Manager upon arrival that you are expecting a call. An usher can locate you with that information. Our emergency phone number is 850-595-3882.