Saenger Pipe Organ Fund
The Heartbeat of Lady Saenger
Friends of the Saenger (FOS) is proud to announce that our next project in our continuing effort to improve the Saenger Theatre is the complete restoration and enhancement of The Great Saenger Pipe Organ. In addition to restoring the console and pipes that have been hidden in the walls of the Saenger (some since 1925) we are going to greatly increase the size and capacity of the organ. When finished, The Great Saenger Pipe Organ will rival any of the large theatre organs in the country. The "Heartbeat of the Saenger" will be restored!
We Need Your Help
Of course, this magnificent organ won't be restored to its original glory without donations. After much research, FOS determined that we could restore and enhance The Great Saenger Pipe Organ for approximately $330,000. With the restoration complete, the organ is now valued at over $3 million! It will provide future audiences with thrilling concerts to rival any theatre organ in the country.
While our primary fundraising goal has been met, we are still soliciting contributions to continue enhancing, expanding, and maintaining the organ. If you would like to be a part of this historic project please fill out the form below.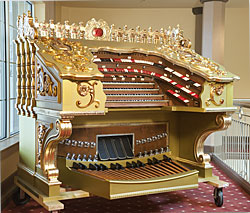 Pipe Organ Demonstration
Would you like to hear a demonstration of a similar theatre organ? This segment of All Things Considered on NPR highlights the pipe organ at the Paramount Theater in Seattle. The Paramount is home to one of the country's few surviving and working Wurlitzers. It was built in 1927 when the theater was built and the man who plays it does a great job of describing and demonstrating all the bells and whistles that are associated with organs like our very own Great Saenger Pipe Organ. Listen here.
What We Have

The following is a list of components that have been at the Saenger since 1925. These need to be restored or repaired at a cost of approximately $230,000.

Ranks
# of Pipes
TUBA HORN
85
DIAPHONE
85
TIBIA CLAUSA
97
CONCERT FLUTE
97
SALICIONAL
73
CELESTE
61
CLARINET
61
VOX HUMANA
61
CHRYSOGLOTT
49
TIBIA CLAUSA
97
DIAPASON
73
VIOLIN
73
VIOLIN CELESTE
61
ENGLISH HORN
61
CORNET
73
SAXOPHONE
61
KINURA
61
ORCH OBOE
61
VOX HUMANA
73
QUINTADEN
61
XYLOPHONE
N/A
MARIMBA
N/A
BELLS
N/A
PIANO
N/A
BASS DRUM
N/A
SNARE DRUMS II
N/A
TAMBOURINE
N/A
CASTENETS
N/A
BIRD WHISTLE
N/A
CHINESE BLOCK
N/A
TAP CYMBAL
N/A
SIZZLE CYMBAL
N/A
CRASH CYMBAL
N/A
SLEIGH BELLS
N/A
AIR CONDITIONING
N/A
WINDLINE MUFFLER
N/A
RELAY SYSTEM
N/A
CONSOLE UPDATE
N/A
CABLE / WINDING / FRAMING
N/A
WINDCHESTS RESTORATION
N/A
What We Need

To make our pipe organ a world-class instrument, we need to add the following components. The cost to purchase, repair and install will be $100,000.

Ranks
# of Pipes
PRINCIPAL
73
DULCIANAS
146
FRENCH TRUMPET
85
PLEIN JEU
244
HARMONIC FLUTE
73
GAMBAS
146
MUSETTE
61
FLUTE CELESTE
61
FRENCH HORNS
61
VOX HUMANA
61
VIOL DE ORCHESTRA
146
VIOLINS
146
FOURNITURE
244
OBOE HORN
73
OCTAVE
73
HORN CELESTE
61
LIEBLICH FLUTE
85
SOLO TIBIA
85
VIOLAS
146
TUBA MIRABILIS
61
VOIX CELESTE
146
VIOL
12
ENGLISH HORN
12
What is a Rank?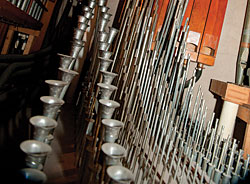 The pipes are situated in rows called ranks. Each rank contains many pipes. For instance, the violins listed above has 146 individual pipes! These photos show several ranks of pipes located at the Saenger. When the restoration is finished, our organ will have 52 ranks. For comparison, the Radio City Music Hall organ has 58 ranks.